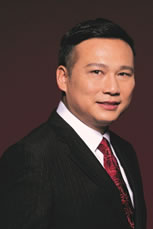 Dear Parents and Teachers,
It is my great honour to be the Chairman of the Parent-Teacher Association (PTA) 2017-2018. Welcome to our big family!
As the PTA Chairman of this prestigious college, I would like to accomplish several goals. It is my wish that in my term, the PTA can continue to facilitate communication between the school and parents, as well as between parents. In addition, I hope the activities organized for parents, teachers and students can fulfil knowledge enrichment, leisure and spiritual satisfaction.
As a parent, I believe that the school is not just a place for my son to learn happily, but also a place that equips him to lead a fruitful life in the future. Our encouragement, support and active participation are the key to success. Let's work together for the great and the beautiful lives of our children.
"Sometimes if you want to see a change for the better, you have to take things into your own hands." – Clint Eastwood
Yours faithfully,


Alvin Lam
Chairman
Parent-Teacher Association
2017-2018
親愛的家長和老師們:
很榮幸在此以2017-2018年度聖保羅書院家長教師會主席的身份歡迎大家加入我們這個大家庭!
作為一所歷史悠久的學校的家教會主席,我期望能夠與大家一起達成多方面的目標。我期盼在任期內能夠帶領家教會成為不同持分者的溝通橋樑,包括學校和家長的溝通以及家長之間的溝通,從而滿足大家不同的需要。此外,我亦希望透過舉辦不同活動予家長、教師和學生,達到不同的果效,例如增潤知識,消閑娛樂和啟迪心靈等等。
作為一位家長,我相信家長對學校的其中一項重要期望,就是讓孩子在愉快學習的同時,也能好好裝備自己,為未來豐盛人生奮鬥。達成目標需時,而家長的積極參與、鼓勵和支持也是成功不可或缺的元素。讓我們共同努力,為孩子創造美好人生。
更好的改變,始於把握每一個機會!
2017-2018聖保羅書院家長教師會主席
林昶恆謹啟